MAXAVA Monitor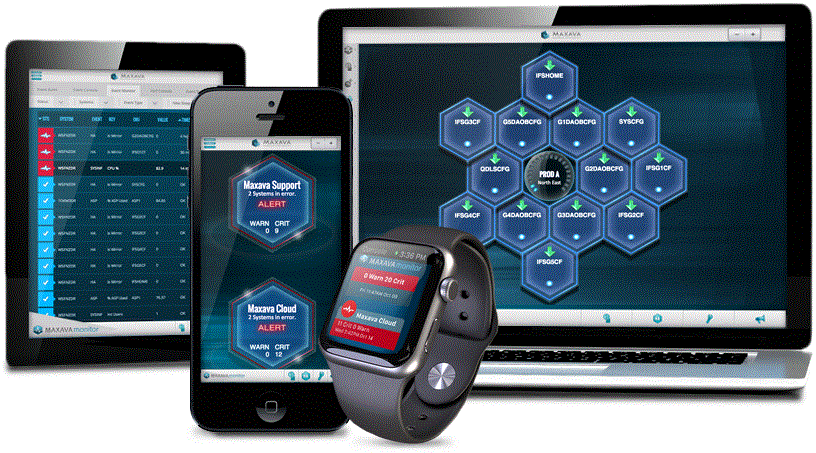 Maxava is pleased to offer current North American Maxava Software Maintenance customers a free 30 day trial of our brand new solution for IBM i, Maxava Monitor.
Maxava Monitor is an advanced automated monitoring solution for your IBM i, fully optimized for both on-premise and Cloud-based production and backup workloads.
Maxava Monitor has been designed from the ground up to deliver the very latest monitoring solution for all key facets of your IBM i operating environment;
Systems

Applications

Availability
As a Cloud-native solution that securely monitors your IBM i using advanced functionality, Maxava Monitor delivers up-to-date system information wherever you are, however you want it and on the device you choose.
Maxava Monitor can be rapidly configured and deployed without the need to purchase any new hardware. Setup is simple, can be done remotely and the payment terms are based on a simple and flexible monthly fee.
The Technical Benefits of Maxava Monitor
System, Application and Availability Monitoring
Maxava Cloud Monitor provides the flexibility to monitor your total IBM i environment anytime, anywhere. Optimized for mobile devices while providing a full array of real-time alert notifications, this intuitive interface allows you to monitor and manage your critical operations at home, on the road and in the cloud.
Transparency in the Cloud
Using Cloud Applications doesn't mean you have to lose visibility of your critical data in the Cloud. Maxava Cloud Monitor allows you to actively monitor the health and availability of all your data – even when it is hosted offsite. A visual dashboard gives you a bird's eye view into hosted infrastructure at all times, so that you can rest assured that resiliency is always maintained.
A Deeper Level of Availability
High Availability monitoring assures the highest SLAs by keeping premise and Cloud systems in sync 24/7/365. Critical Events are reported in real-time, ensuring the highest level of availability at all times. With replication always in synch between IBM i production and target systems, a successful role swap is guaranteed.
Secure Your Critical Processes
Maxava Cloud Monitor keeps your critical processes out of harm's way. Critical Events are instantly escalated to management, while our unique MaxTriageTM functionality allows prioritization of critical events as they occured.
---
Interface Advantages

Single interface for system event monitoring, HA environment monitoring, message review, performance statistics and Top Jobs analysis

Advanced interface available for PC, tablet, smartphone and smartwatch

Provides multiple views for management, administrators, operations and Data Center / NOC
Event Notification
Built-in escalation processes to ensure that SLAs are met

Triage processing to allow events to be shared and allocated

Event Console highlights unacknowledged critical events

No hardware requirements required for notifications, e.g., modem / PCs

Capability to define and execute commands via browser interface

Rules based notification by SMS message, email, text-to-speech voice calls, Apple Push and Twitter

SMS-text based response to Inquiry messages

Sleep processing minimizes false-positive alerts
Multi-Level Event Monitoring
HA environment, including remote journaling

ASP utilization

Subsystem activity

DASD utilization

Pools

Message queue monitoring

Object Existence checks

Top Jobs running on the system and their attributes

Job Queues and their contents

Output queues status and attributes

Printer definitions

Self-awareness

General System Information
Rule Flexibility
Select parameters such as queue name, library name, job name and severity

'And / or' selections for focused rules

Easy definition of date and time exceptions – when not to react to a triggered event

Includes templates for commonly used standards