Legacy integration with Verastream is easy and risk-free. The Verastream integration suite provides a complete range of mainframe, web, and desktop modernization tools that speed the reuse of legacy applications in service-oriented architectures.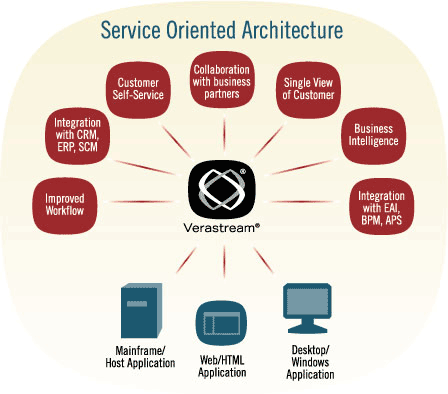 Legacy Integration for a Variety of Business Needs Verastream uses an advanced services approach to extend legacy data and logic to new users or new composite applications. You can selectively mix and match Verastream-generated services for integration with web, portal, CRM, mobile, call-center, or web self-service solutions. The Verastream integration suite offers:
Now you can get the complete range of mainframe, web, and desktop integration from a single vendor. Just choose the result you want—basic rejuvenation, customized presentation, or sophisticated high-performance integration—and Verastream can help you roll out a new look and feel. There is no need to disturb valuable legacy code or associated business processes.
---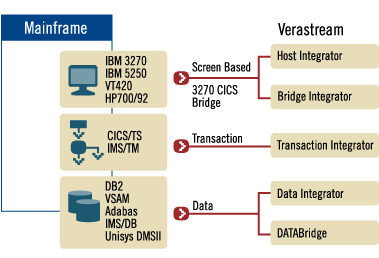 Verastream provides a complete range of mainframe modernization tools, from basic rejuvenation to customized presentation and sophisticated high-performance integration.
Choose the method that suits your needs:
When direct-data access is not feasible and no API is available to access the business logic, integration through the terminal screen can be the most practical choice. With Verastream Host Integrator, developers can encapsulate data and logic via the screen interface. Whether your environment is IBM zSeries (S/390), IBM iSeries (AS/400), Unix, OpenVMS, or HP e3000, you can give users get a new look and feel, while leaving process flows unchanged.
CICS 3270 Bridge integration
When service-enabling CICS functionality, look for a solution that can directly leverage the power of the IBM mainframe. Verastream Bridge Integrator is a native, mainframe-resident adapter that runs in the CICS Transaction Server. It delivers reliable, high-performance integration of CICS applications.
Transaction-level integration
Although most legacy applications don't provide access to business logic via an API, some well-known exceptions include CICS- and IMS-based transactional applications on IBM mainframe platforms. Verastream Transaction Integrator gives developers direct access to CICS and IMS transactions. That way, they can build new services while bypassing the presentation layer for superior performance.
When business logic is impossible to access, data-level integration can be used. This method works best when you can easily access meaningful data, and when you do not need to update (write to) a database. Verastream Data Integrator provides pre-built drivers to access host-based data sources. They are easy to install, configure, and optimize without putting a strain on system resources.
DATABridge provides businesses with a comprehensive ETL (Extract, Transform, Load) solution for securely integrating Unisys MCP DMSII and non-DMSII data to a secondary system. DATABridge makes business information readily accessible for the purpose of analyzing and processing – while simultaneously conserving host resources.
---
Verastream Web Integrator
For IT staffs, integrating web applications can sometimes be as challenging as integrating mainframe applications. Most software vendors have a hard time helping because they cannot bridge the gap between newer technologies and legacy technologies.
A strategic partnership between Attachmate and Kapow Technologies bridges that gap for you. Verastream Web Integrator provides fast integration of web-based information into portals, content management systems, packaged applications, and
databases.
Key features of Verastream Web Integrator include:
Selective clipping of full web sites, full pages, or parts of pages.

Wizard-driven portlet and API generation.

Full support for leading portals.

Bi-directional integration with any web site.

Web service, Java, and .Net support.

Transaction integrity validation.

Visual mapping and transformations.

Site navigation for multi-page collection.

Synchronization of content over time.

Collection of content in dynamic pages and files, or behind log-in screens.

Support for multiple data formats, databases, XML, Excel, text, CSV, and web2web systems.
The platform includes a visual design environment and comprehensive web-integration lifecycle tools to ensure ongoing accurate results. The development environment, which is also a visual one, lets you create new integrations without changing a single line of code in the web interface or application.
With Verastream Web Integrator, you get a set of advanced tools for web clipping, data collection, and application integration. The solution enables target applications to access the full functionality and data of source applications, regardless of their origin or underlying technology.
---
Verastream Desktop Integrator It's become commonplace for users to work with a variety of applications on their desktops. Lack of communication among those applications often results in data entry errors, complex keystroke combinations, cutting and pasting between applications, new UIs to learn, longer calls, and frustrated customers. This problem is particularly evident in contact center environments, where agents typically work with five or more desktop applications.
As a result of a strategic partnership between Attachmate and OpenSpan* you can break down the barriers between desktop applications. Verastream Desktop Integrator is a set of .NET-based tools for integrating corporate desktop applications, regardless of their ownership or origin. It can help you improve call center performance, increase end-user productivity, decrease training costs, and optimize your IT infrastructure.
Key features of Verastream Desktop Integrator include: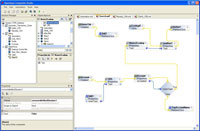 Ability to integrate Windows, Java, DOS, and web-based desktop applications.

Non-invasive approach, with no changes needed to underlying applications.

Graphical design environment that requires no new code and no new programming languages.

Simplified rollout, with the desktop agent deployed by existing infrastructure.

Linking of all desktop applications to share data and functions as one composite application.

Ability to consume SOA-oriented services, so blended solutions can easily be created.
The processes needed to identify the data elements, create the automations, and deploy throughout the enterprise are all part of Verastream Desktop Integrator. Costly teams of programmers are not necessary and you can deliver a full working solution in a fraction of the time required by conventional methods.