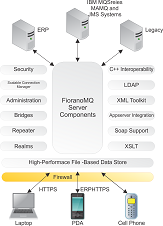 FioranoMQ
MQ, Messaging Queue, FioranoMQ, JMS, MQ Services, Messaging Server, JMS server, JMS Solutions
FioranoMQ® is a Java Message Service (JMS) compliant platform delivering the industry's lowest latency, highest throughput real-time enterprise messaging (asynchronous and synchronous) to power high performance, highly available, and collaborative workflow applications whose application services are distributed throughout the IT landscape. Fiorano delivers industry-leading performance with minimal end-to-end latency, outperforming competing products significantly in real world application benchmarks.
MQ, Messaging Queue, FioranoMQ, JMS, MQ Services, Messaging Server, JMS server, JMS Solutions
Fiorano's enterprise messaging backbone seamlessly integrates heterogeneous IT systems improving operational efficiency, business agility and performance. With comprehensive support for standards-based communication, connectivity and transformation, the FioranoMQ JMS server minimizes proprietary dependencies while providing a powerful communication backbone that can be extended easily, allowing real-time delivery of data spanning multiple applications, platforms, partners and customers. Fiorano is the messaging middleware of choice supporting mission-critical operations for Global Leaders worldwide.
---
Key Features:
MQ, Messaging Queue, Fiorano MQ, JMS, MQ Services, Messaging Server, JMS server, JMS Solutions
Industry-leading Performance
Fastest, lowest-latency Java Messaging for both Publish/Subscribe and Point-to-Point (Queuing) benchmarks. Rated at over 95,000 messages/sec in close benchmark testing
Consistent JMS performance leader for over a decade
Comprehensive Support for Standards
Supports multiple standards including JMS 2.0, J2EE 1.7, JTA XA Resource API, XML Message Exchange, SOAP, HTTP, HTTPS, SSL, and TCP/IP. Security standards include SSL, TLS, JCE, LDAP and PKCS
Continuous Availability
Implements shared and replicated High-Availability (HA) models with industry-leading performance
Simple, "server-side only" HA configuration. Client connections automatically routed to backup serves on failure; in-process transactions resumed with minimal rollback time
Client-side persistence for added availability in server-down conditions
Linear Scalability
Scales to thousands of concurrent client connections with no loss in performance and server throughput
File-based message store specially designed for mission critical communications, maximizing message throughput and minimizing delivery latency. Up to 10 times faster than competitive products
Robust Security
Comprehensive authentication and authorization, with support for JAAS and plug-in's for various external systems including LDAP, NT/UNIX realms and databases
Up to 256-bit message encryption and plug-in SSL connections for both TCP as well as HTTP[s] connections, with available proxy tunneling and support for Digital Certificates
Global Manageability
JMX-compliant management API's and visual tools with extensive support for dynamic configuration, management of networks and destinations, real-time activity monitoring and reporting
Logging capabilities for auditing past logs and events. Support for dynamically changing the trace levels for various internal modules reduces the time required to detect, diagnose and respond to problems