EZ-Pickin's lets you transform System i reports into 'Live' Interactive views. Extract report data to Excel, Graph, Query, Sort, Summarize… Give Financial, Sales and Management pros the power tools that improve workflow, analysis, decision making and printing costs. EZ-Pickin's also integrates with Catapult and Spool-Explorer to further modernize business applications and processes.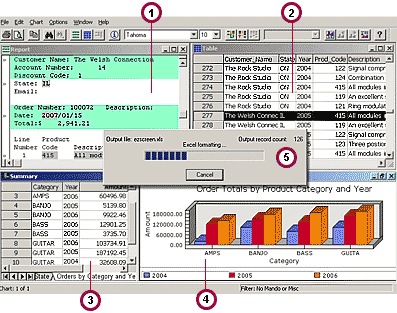 EZ-Pickin's allows you to view, analyze and distribute data created from iSeries reports or virtually any computer generated report. Easily accomplish this with NO programming, NO rekeying and NO changes to your applications! EZ-Pickin's can use spooled report files, such as those from Spool-Explorer or Catapult as a source for data. Use any new or existing report and out comes live data you can view, query, filter, analyze, visualize, distribute, and even extract without rekeying to other PC laptop or desktop applications.
EZ-Pickin's models can include one or more of these views.
1. Green Bar Report – You can utilize such features as: Find, view, zoom, next, copy…
2. Customized Table – You can create tables from any fields in the report and sort the data any way you wish. On the fly.
3. Customized Summary Reports – If desired, different users can create their own customized summary views based on what they need.
4. Customized Charts / Graphs – Create colorful and informative charts and graphs based on report data.
5. Customized Data Extraction – Extract report, data into Excel Spreadsheets…
---
How does EZ-Pickin works
Input to EZ-Pickin's
EZ-Pickin's can extract data from virtually any computer generated report, including complex reports with headers, footers and multiple sort levels. It automatically recognizes different data types so date fields and numeric fields are properly maintained in appropriate formats. EZ-Pickin's reads report files sent from any AS/400 – iSeries – i5, mainframe, client/server or PC system.
Data Extraction
At the heart of EZ-Pickin's is a powerful data extraction engine that can pull data out of virtually any report, from simple columnar reports to complex reports with headers, footers and multiple sort levels. You define a data extraction template to identify desired data elements. Templates can be saved and reused any time a periodic report is run.
User Interface
EZ-Pickin's offers four views of report data: 1. A 'softcopy' of the original report is displayed in EZ-Pickin's report window 2. Data extracted from the report is displayed in the table window 3. User defined summaries which analyze report data are displayed in the summary window 4. Dynamic charts linked to summary reports are also displayed
Data Processing and Analysis
EZ-Pickin's provides a range of features to help you manipulate and analyze the data extracted from reports. You can create calculated fields using and extensive library of numeric, logical and string functions. You can define filters to boil down the data, sort the data on one or more keys and create new reports with data extracted from the original report. You can drill down through summary data to reveal successive layers of detail and create charts that change dynamically as you explore the data. Create and run saved templates/models over reports to automatically extract and export data directly into any of 100's of Windows applications (e.g. Excel, Access, MS-Word, Lotus 1-2-3… ) without rekeying! Even send reports, graphs… via E-mail, Internet, Intranet, Lotus Notes…. Using EZ-Pickin's also saves you 6?for every page you don't print!
---
EZ-Pickin's Feature
Text files from virtually any computer generated report

iSeries Reports using Spool-Explorer

Catapult to Automate iSeries Report Workflow
User Interface Live Interactive Views
Report View with Green Bar option

Table with Extracted Data

User Defined Summaries

Dynaic Charts

Combined View

Report Tree View
Export to Multiple Windows Applications
Excel, Access, XML SS, MS-Word, HTML, Lotus 1-2-3 and More

Printing & Copying

Advanced Formatting Options
Reusable Templates

Header, Detail, Append and Footer Templates

Field Attributes Recognized
Data Processing and Analysis
Record Selection Filters

Calculated Fields

Sorting Data

Query Data

Drill Up or Down