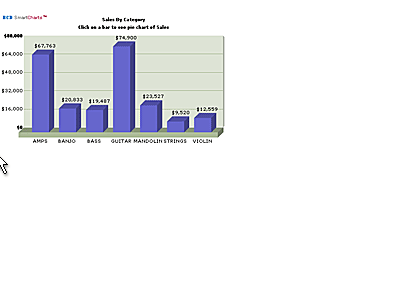 Design real-time web based iSeries Reports and Queries fast and easy
Clover is a powerful and easy-to-use iSeries query tool that allows end users and programmers to design real-time iSeries web reports and queries that are deployed in browsers. Clover uses templates to make it easy to write reports with totals, subtotals, level breaks, drill downs, summaries or details, produce online drill down graphs (bar, pie, line, gauges, etc) using the SmartCharts feature, export to Excel and more. It works with your existing iSeries or i5 database files, provides SQL wizards to make constructing simple or complex relations between files intuitive. Clover seamlessly integrates with award winning WebSmart, our Web Application Development tool, to give you the complete power to build elegant and leading edge web and query applications.
Real time iSeries Web Queries & Reports

End Users, Power Users or Developers can create Reports

Drill Downs, Summaries, Flash Charts, Spreadsheets and Dashboards

SQL Wizards for Codeless Reporting

20+ Reporting Templates

Fully Integrated with WebSmart

SmartCharts for Charts and KPIs

Nexus Portal for added Security and Controlled Access to Reports

Thin Client and Unlimited User License
Reports have never been so easy to create!
End users-produce reports by following the basic Wizard prompts.
Power users-build complex reports with minimal or no coding, using the more advanced features of the templates and the Wizard.
Developers-use Clover and all the power of WebSmart's IDE to build even more sophisticated reports. The KPI's, Charts and Summary Reports above were created in 5 minutes

Anyone who wants to design iSeries reports and queries and deploy them in browsers-and anyone who cares about eliminating reporting requirement backlogs can benefit from Clover. Managers, power users and end users can even design their own reports without the need to ask programmers or designers to get involved. All levels of users can get timely, relevant, and accurate information on their desktops in a browser without client seats. And, users can access secured Clover-generated pages from anywhere: Internet, Extranet, or Intranet using very few resources.
Build business intelligence or Dashboard applications that power EIS solutions.

Give users the tools to unlock previously hard-to-access information.

Create and open Excel-compatible files easily.

License includes unlimited end-users. Because it is browser based, clients seats are not needed.

Open up all of the powerful web programming capabilities in WebSmart.

Allow these interactive reports to interface to other WebSmart-built applications or web pages.
Clover integration with WebSmart, SmartCharts and Nexus
Clover Integrates with WebSmart, Nexus and SmartCharts to further modernize business applications and processes:

WebSmart: Clover is not simply an add-on Product to WebSmart, our iSeries web application development solution. Moving back and forth between the core features of WebSmart and the reporting features of Clover is seamless. And all of the tools that are a core part of the WebSmart IDE are available to developers using Clover.
You can actually write reports with little or no coding at all ! Clover's own templates drive the report creation Wizards making it easy to design reports with breaks, subtotals, graphs, Excel spreadsheets and more. You can also relate many files (for example, join a header to a detail file) and specify just how you want the data sorted, filtered, and reported.

Nexus: Nexus, our iSeries Web Portal and ECM solution, can provide the secure framework and organization required to provide users with secure access to their Clover reports and charts. It is also very easy to create Executive Dashboards or lists of links with your Clover queries and reports.

SmartCharts: SmartCharts is an advanced set of KPIs, charts, graphs, gauges that run as Flash objects and is included with Clover for free. Provide users with modern animated and professional quality graphical views of realtime data with drill down capabilities. Clover includes templates that incorporate SmartCharts with no coding required.
"IBM supports BCD's System i modernization suite — WebSmart, Nexus Portal, Clover Query and Catapult — and its use in the System i marketplace." "BCD is an important and progressive solution provider and we appreciate their commitment to System i business modernization through the System i Initiative for Innovation program." Elaine Lennox, IBM Vice President System i Marketing